Anatma - An Indo-Italian Jazz project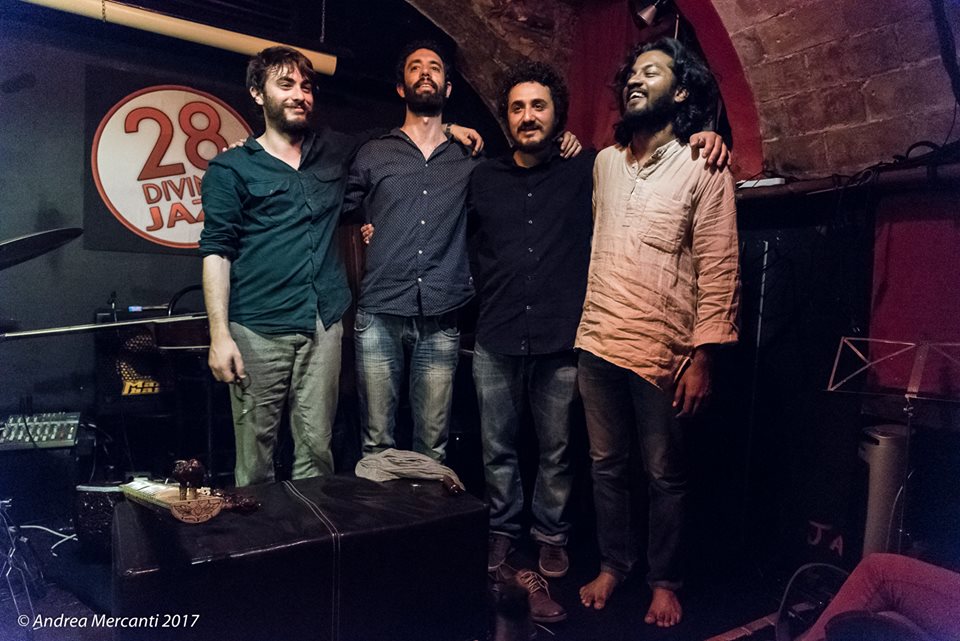 A confluence of free and spontaneous creative expressions, combining intricate musical elements of Indian classical and jazz music. Anatma, as the name suggests, is a selfless journey in the quest of satisfying notes and rhythms, its a reflection of sensible musical aesthetics set on the trails of freedom and union of musical minds of the artistes, continuously searching for the common elements ranging from ragas to songs and improvised compositions without restricting the flow of music towards any particular. The music of Anatma is solely based on spot exchange of creativity within the artistes, each reflecting their very personal choice of expressions connoted from their diversified musical upbringings, knowledge and aesthetics, thereby creating a unified sound by respecting each others traditions and languages which often takes the listeners through a journey of trance and oneness.
The Band
Rohan Dasgupta (Sitar)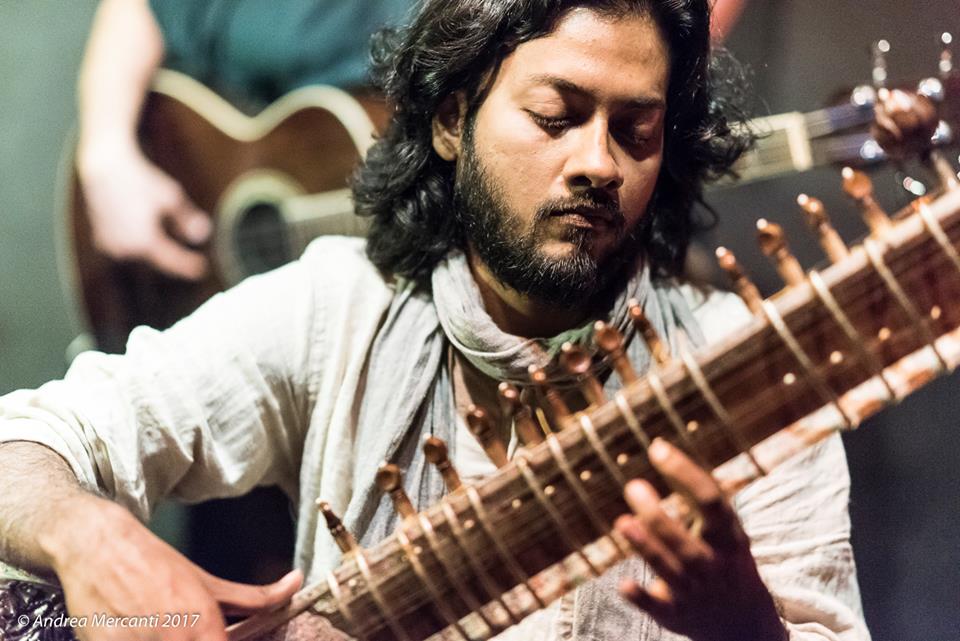 Inspired and initiated into the world of music by Ustad Abdul Halim Jaffer Khan. Rohan considers himself very fortunate to start the emphatic journey towards Indian classical music from one of the stalwarts of sitar playing Pandit Haras Shankar Bhattacharya, from a very tender age. Under his wings, Panditji initiated little Rohan to the magical world of Indian classical music and jafferkhani baaj and as his unfolded step by step, with parental care and affection, the deep nouances of the musical worship, Rohan matured as an artist and developed an individual meditative style of sitar playing. The legend Padmabushan Ustad Abdul Halim Jaffer Khan himself has been a costant source of inspiration throughout and Rohan is blessed with numerous life defining sessions from his legendary grand guru himself.Presently he is also imbibing several rhythmic intricacies under the influential guidance of tabla maestro Pandit Udai Mazumdar of Banaras Gharana. Credited for his dynamic stage presence and humble personality, he has been performing and spreading the sacred ecstasy of Indian classical music belonging to Indore Gharana from a very young age, and have got enormous compliments and support from his listeners and admirers from all around the world. A frequent performer in several prestigious music festivals in India, Europe, Russia and South America, a regular radio and television artist, he
has been awarded with the President's award and the national scholarship by the government of India to name a few.
Rohan has been associated with several musician worldwide and tours extensively around the world. His recent collaborations with north India flute virtuoso Bhaskar Das and carnatic mandolin prodigy Aravind Bhargav is highly appreciated and cherished throughout the world. Wit his rate dexterity and creative instinct, Rohan has always shown his orthodox and magical command over the implicit nouances of the raagas. Establishing new avenues and visions as a music composer Rohan is at his innovative best among the blooming musicians. After the success of his solo album "Sages" he is currently working on his recent project on meditative album "Naadsutra".
Riccardo Di Fiandra (Bass)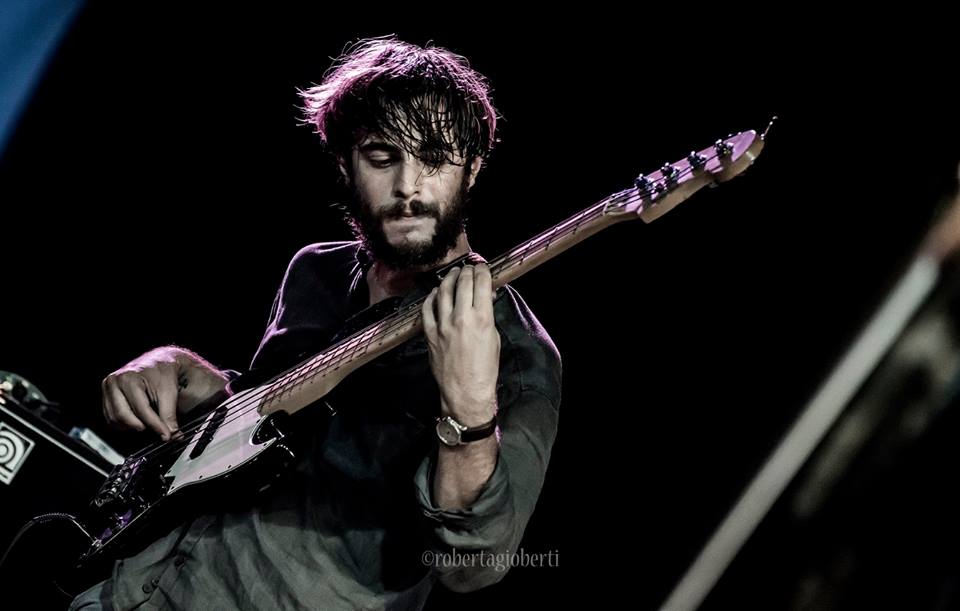 Born in 1991, Riccardo grew up within the sophisticated society of Romes art and culture.He soon found his love and interest towards Jazz music and his special adherence to bass sounds. Riccardo gained the Master degree in jazz bass with distinction in March 2016 specialization in Jazz composition.Studies under the guidance of Maestro Marco Siniscalco, Stefano Cantarano, Ettore Fioravanti, Paolo Tombolesi, Marco Tiso, Roberto Spadoni, Antonio D'Antò, Orlando LeFleming. In 2014 he attended workshops in writing for jazz orchestra as part of "Chieti in Jazz", studying with Bruno Tommaso, Giovanni Falzone and Roberto Spadoni and one of his composition for Big Band has been rewarded with a scholarship. Collaborates with several projects such as Zy Project recording the first album "Nowher's Anthem" (Jazzit records), and performs in important national jazz festivals all over the country. In 2015 he has presented
"Maintenant with Lucia Ianniello Quartet and keeps collaborating with several musicians such as Fabrizio Bosso, Roy Paci, Stefano Di Battista, Aldo Bassi to name a few. In 2016 records the album "Lalita" (to be released), with Anatma
quartet, an experiment infusion of distant musical worlds. He is presently in-deepening his studies in western classical
composition and harmony in order to fit his deep knowledge and artistic own aesthetic in his particular style, ranging
from jazz to contemporary music.
Luigi Di Chiappari (Piano)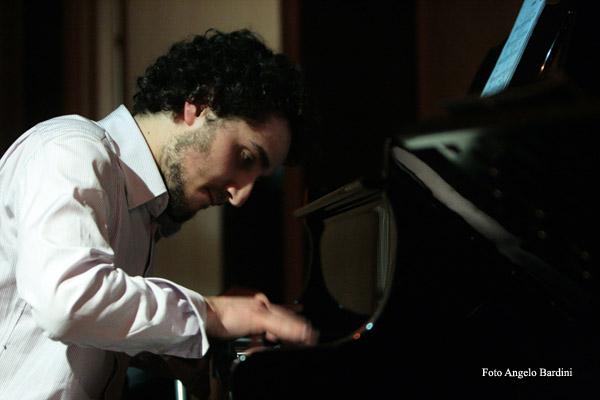 Born in 1983 in Gaeta, young Luigi's exceptional musical talent was soon recognized by hisparents and he was immediately introduced in the world of music. He was carefully shaped and nurtured into a matured musician under the guidance of several maestros and exponents of jazz music such as Greg Burk, Ettore Fioravanti, Eugenio Colombo, Mariano Di Nunzio, Klaus Lessman, Roberto Musto. In 2014 he completed his Master of Arts Degree in Arrangement and orchestration -Jazz piano - at the Conservatory with distinction. He is also nominated as member of top ten Italian keyboard player by Jazzit awards in 2014 edition. Some of his remarkable work at present includes his colaborations such as pianist and composer with ZY project, Stefano Preziosi, Walter Paoli, Maurizio Giammarco, Stefano Cocco Cantini, Francesco Ponticelli, Fabrizio Bosso to name a few, numerous appearances in famous exhibitions and radio and television presentations, and composing music for theatre shows, and several albums for appreciated Italian artistes. Today Luigi is considered to be one of the ace Italian jazz Pianist who has been continuously expanding his realm of artistic exploration and sensitivity through his musical aesthetic.
Daniele Di Pentima (Drums)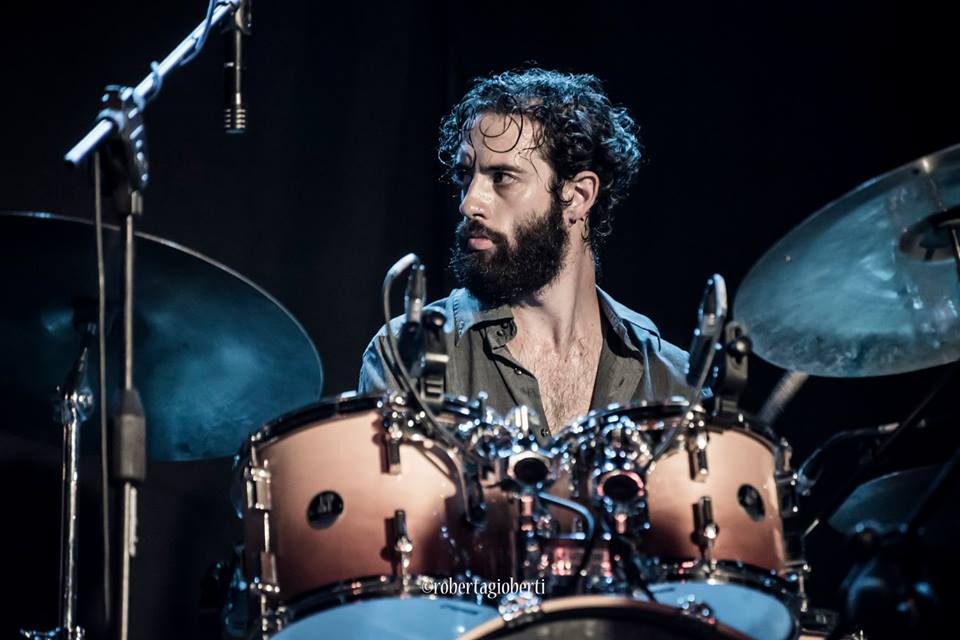 Born in Spoltore, 1991, Daniele was initiated into learning drums under the tutelage of Maestro Dante Melena, with parallel focus on music theory and harmony. later he attended jazz drums courses at the Conservatory Licinio Refice
under the guidance of Maestro Ettore Fioravanti, and completed his studies with a thesis on the mingling of Indian classical music in contemporary jazz. His deep interest towards folk and traditional music from all over the world and most significantly Indian rhythm and his in-depth knowledge of jazz music has helped him to create an unique musical style. His research in the fields of harmony, ethno-musicology and history of percussion has a deep impact in his musical expressions. Daniele has been performing as a jazz drummer and percussionist in important jazz festivals
and ethno-music festivals in Italy and abroad in countries like England, Slovakia, Romania, Hungary, Czech Republic, Spain, Morocco, India to name a few.His contribution in jazz music albums Includes Antonio Marrone trio–Solemn I (2010) Zy Project–No where's Anthem (Jazzit records) Anatma– Lalita (to be released), to name a few. Member of several ensembles, including Zy Project, Autonomia Tonale Zero, and co-founder of Anatma An Indo-Italian jazz project, he is also collaborating in several music projects and ensembles such as Piccola Orchestra 900 directed by M°Simone Veccia, Alexian Spinelli, Miklos Both, Ana-Cristina Leonte, Diego Leveric, Marwan Samer, to name a few, being appreciated for his wide knowledge of numerous styles of playing drums and percussion,and personal contribution with his aesthetic in all the music fields, from world music to jazz to classical western music etc.He is presently focusing on developing his own musical niche combining the knowledge of Jazz and Indian rhythm and its melodic and poetic rhythmic interpretations.